Come Back and See Us Next Year!
Congratulations on completing finals and beginning your summer break! As you move forward with your summer break, and shortly thereafter your next year of college, we hope that Tropicana contributed to you having your best college year. Right now is a bittersweet time as everyone in our community moves forward in all different directions. When you look back at your 2016-2017 year at UCSB and Trop, you're sure to remember all the amazing friends and experiences you've made here, in addition to your own personal and academic growth.
To view some of the highlights of special memories from this year, check out the Tropicana Del Norte end-of-the year video on YouTube, above.

If you are still considering where to live next year, you are welcome to continue to be a part of the Tropicana Del Norte community next year! Enjoy the all-inclusive housing package, and don't worry about cooking, or signing a lease with roommates who may bail on the rent. Or, if you're excited to try getting gourmet in your own apartment kitchen, consider moving to our apartment community for sophomores, juniors, and seniors, Tropicana Villas. You can log on to your MyTropAccount to sign a new lease contract at either community.

Have a happy and safe summer!
Everyone came together at the end of the year to celebrate all the memories made here at Tropicana Del Norte! Thanks for voting for the superlatives and congrats to all of our winners!
Karam Foundation – Peace in the Middle East
Concerned residents learned about the Books Not Bombs Campaign from its very own campus coordinator, Chris Records, and countless other organizations that provide aid to Syria! In addition to the great presentations, many residents won Karam Foundation t-shirts and ate some delicious Syrian desserts!
Tropicana foodies came down to try some delicious Japanese food! Takoyaki is a delicious street food popular in Osaka, Japan.
Frequently Asked Questions After Move-Out
Question: When will I get my security deposit back?


Answer: Your security deposit check will be mailed to the address you confirmed at check-out within 21 days from your contract end date. The $50 cleaning fee, plus any additional charges for damages, will be taken out of your $350 security deposit. Don't forget to come to the desk to check for packages and your mailbox one last time, confirm the address you want your security deposit mailed to, and return your keys.


Mail
Question: How long will you forward my mail / sign for my packages?


Answer: We will forward your first-class mail for 60 days. Be sure to change your address with your bank, school, magazine subscriptions, Amazon or eBay or any other mail you want to be sure not to miss. Our policy is that we avoid signing for any incoming packages for non-residents/former residents. Please be sure to double check your shipping address once you've moved out. For regular USPS mail you can change your address directly with the post office at
https://www.usps.com/manage/forward.htm
Santa Barbara Gift Baskets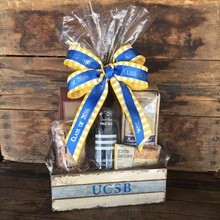 Looking for the perfect for your graduate? Take a look at gift baskets from Santa Barbara Gift Baskets! There are great options to choose from so you can find the perfect gift to help celebrate this important event!
DUDE I Need A Truck is a mobile app that connects you with Dudes + Trucks + Muscles. They have trusted, trained and verified Dudes who will load, secure your stuff in their pickup truck. The app allows you to get an instant quote before committing to ordering. No fine-print, no hassle. Just incredibly good service! Use promo code "College5" for 5% off your next move. Visit http://www.dudeineedatruck.com/download-dude/ to download the app.
Picture Yourself at Tropicana Villas Next Year!
Tropicana Villas, situated three blocks from UCSB, five blocks from the beach, and caters specifically to continuing students. Tropicana Villas provides independent apartment living while offering perks such as by-the-bed leasing (which alleviates individuals from being responsible for other tenants) and discounted rates at the Tropicana café, located one block away at Tropicana Gardens Residence Hall. Tropicana Villas apartments are fully furnished and the student community offers amenities such as a heated pool, on-site laundry, parking for sale, as well as access to all amenities at sister properties, Tropicana Gardens and Tropicana Del Norte, which includes 24-hour quiet study lounges, Cardio Room, Fitness Center, and a 27-seat movie theater.

Competition for IV apartment space can be fierce so it pays to plan ahead and get the apartment you want. Sign now through your MyTropAccount and save your spot for the 2017-2018 school year!
Use Your Talents to Chronicle Your Experiences at UCSB!

Do you love blogging? Do you enjoy telling others about your experiences? If you answered "YES!" to either of these questions, we would love to hear from you! Trop is looking for a resident who will write a blog about their Tropicana or UCSB or experiences. Payment is $20 per published blog. If you are interested, please write a sample blog and send it to Brendan Langley at blangley@tropicanastudentliving.com.