Residents got to enjoy a brief break from school this past weekend by enjoying some blenders and engaging in some healthy competition with Super Smash Bros!
Gauchos came together to learn about Selena and her legacy while enjoying yummy tacos!
Artists painted their worries away and were able to choose what they wanted to paint on. Good feelings of relaxation were in the air!
Hungry residents started their weekend the right way, with Bagel Cafe, AND their RA!
Santa Barbara Gift Baskets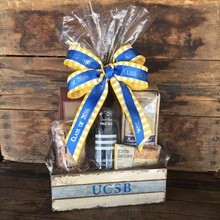 Looking for the perfect for your graduate? Take a look at gift baskets from Santa Barbara Gift Baskets! There are great options to choose from so you can find the perfect gift to help celebrate this important event!
DUDE I Need A Truck is a mobile app that connects you with Dudes + Trucks + Muscles. They have trusted, trained and verified Dudes who will load, secure your stuff in their pickup truck. The app allows you to get an instant quote before committing to ordering. No fine-print, no hassle. Just incredibly good service! Use promo code "College5" for 5% off your next move. Visit http://www.dudeineedatruck.com/download-dude/ to download the app.
Picture Yourself at Tropicana Villas Next Year!
Tropicana Villas, situated three blocks from UCSB, five blocks from the beach, and caters specifically to continuing students. Tropicana Villas provides independent apartment living while offering perks such as by-the-bed leasing (which alleviates individuals from being responsible for other tenants) and discounted rates at the Tropicana café, located one block away at Tropicana Gardens Residence Hall. Tropicana Villas apartments are fully furnished and the student community offers amenities such as a heated pool, on-site laundry, parking for sale, as well as access to all amenities at sister properties, Tropicana Gardens and Tropicana Del Norte, which includes 24-hour quiet study lounges, Cardio Room, Fitness Center, and a 27-seat movie theater.

Competition for IV apartment space can be fierce so it pays to plan ahead and get the apartment you want. Sign now through your MyTropAccount and save your spot for the 2017-2018 school year!
Use Your Talents to Chronicle Your Experiences at UCSB!

Do you love blogging? Do you enjoy telling others about your experiences? If you answered "YES!" to either of these questions, we would love to hear from you! Trop is looking for a resident who will write a blog about their Tropicana or UCSB or experiences. Payment is $20 per published blog. If you are interested, please write a sample blog and send it to Brendan Langley at blangley@tropicanastudentliving.com.